With daffodils in bloom and blossom emerging on the trees, there's a real hint of spring in the air.
While this would ordinarily be cause for celebration, this year it's particularly pertinent since the arrival of the new season also brings with it the prospect of finally being able to socialise with friends and family, albeit in small groups and outside.
From 29th March, the government's lockdown roadmap stipulates that we will be allowed to meet in groups of up to six or two households outdoors. With this in mind, you might be considering how you're going to update your outdoor space to accommodate for hosting guests in a socially distanced manner.
In order to help you get your outdoor space in fine order ahead of hosting, we have compiled a list of the top 5 essentials you need in your garden.
From outdoor furniture and creating an ambience through lighting and heating – this is your ultimate guide to alfresco fun at home.
1. FURNITURE
When thinking about the essentials you need for hosting in your garden, seating is particularly important. Comfortable furniture prolongs the time spent in the garden and will enhance your visitor's experience.
At Swarkestone Nursery you can find ranges of garden furniture and accessories that suit any budget.
We stock everything from wooden benches, metal bistro sets and weave casual dining sets.
If you are looking for wooden furniture we recommend Charles Taylor traditional handcrafted garden furniture. We stock their British Made hardwood benches and companion sets. They are made of high quality materials from sustainable sources. The woodwork is treated with an oil-based preservative. Their range is very affordable.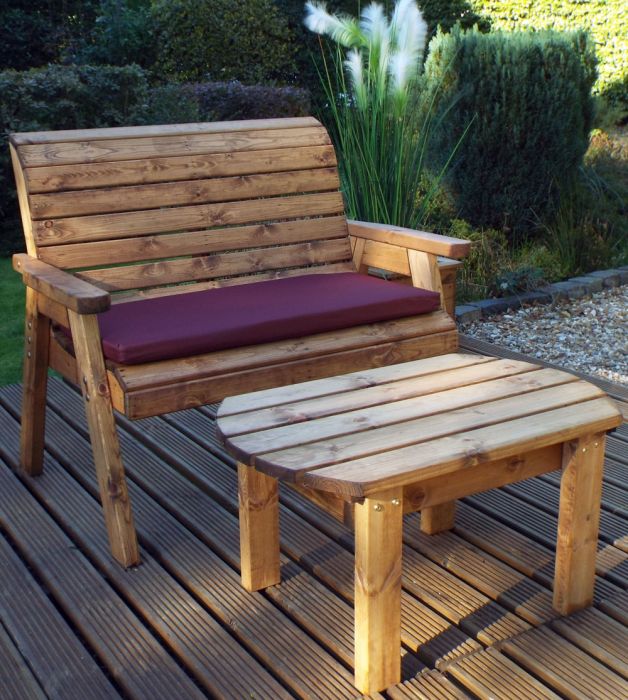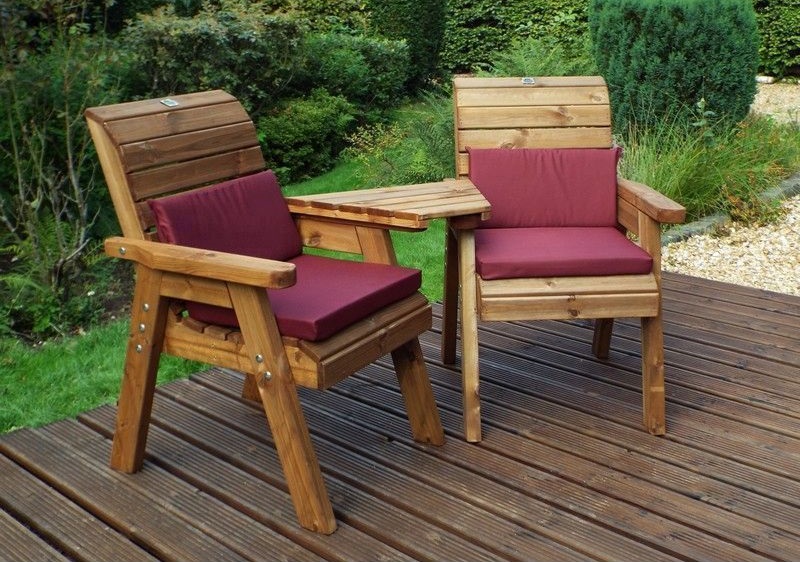 For smaller patios, metal furniture is perfect. The chairs can be folded away after use. Metal furniture is great is you have a limited budget, but still want something stylish. We offer both contemporary and classic bistro sets.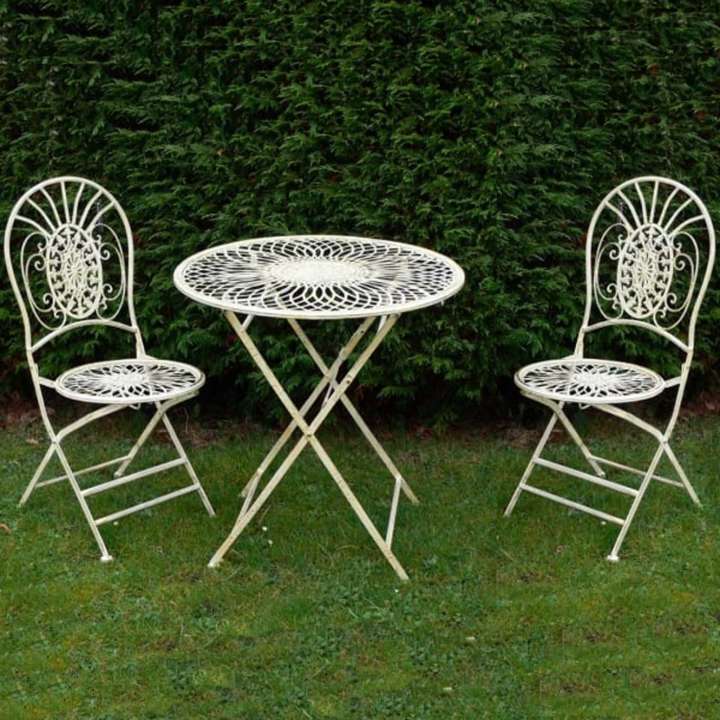 If budget allows, we also stock weave furniture from leading garden furniture brands: Bramblecrest and Kettler. Their furniture collections combine comfort and style. The shape and size of your garden will inevitably dictate which set you opt for.
Tetbury Range
The Tetbury range is designed by quality garden furniture company Bramblecrest and comes with the company's three-year guarantee. Tetbury is Bramblecrest's entry level furniture. It takes up a smaller floor print and is more affordable than their other ranges. The Tetbury range also features a unique eco-friendly innovation: the eco-cushion fabric uses a soft-touch yarn manufactured from recycled plastic bottles.  In this set, the cushions come in a lovely soft fawn colour.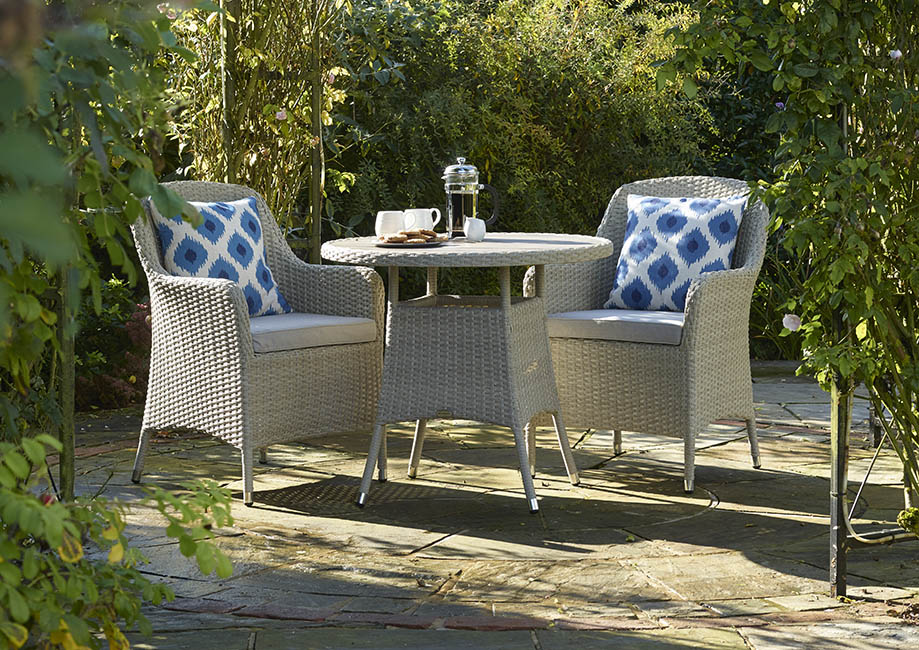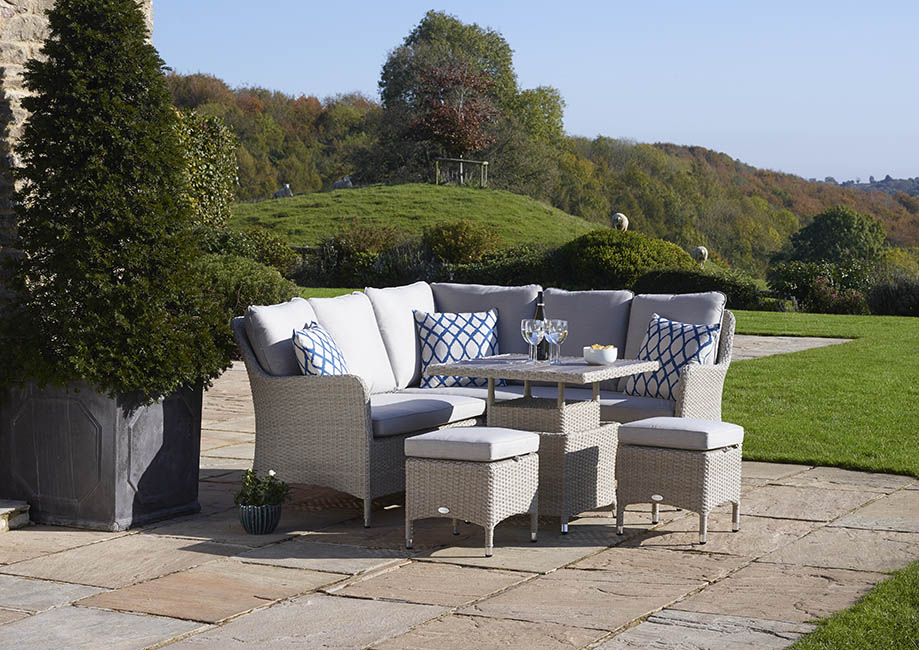 Monterey range
The Monterey range from quality garden furniture company Bramblecrest is a real beauty. With a gently curving shape and a luxurious synthetic rattan weave, Monterey has a classic elegance.  The beautiful synthetic rattan weave is designed to be left outside year-round for easy maintenance.  The beautiful pale dove grey weave is paired with contrasting charcoal cushions to add a contemporary edge. These charcoal-coloured cushions are made with Bramblecrest's soft-touch season-proof fabric.  This novel fabric is manufactured from recycled plastic bottles – so they have fab eco credentials too!
This range includes everything from two-seater bistro sets, round dining sets with armchairs, casual dining corner units with the option of a firepit table or a height-adjustable table and hanging cocoons.
Hardwearing and robust, all the pieces in this all-season Monterey collection come with a three-year guarantee.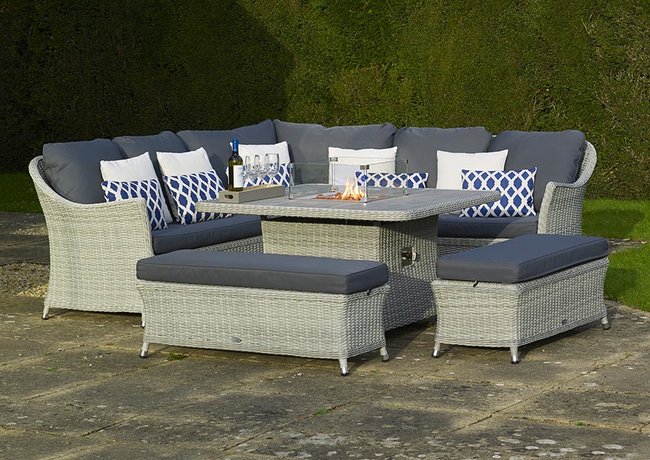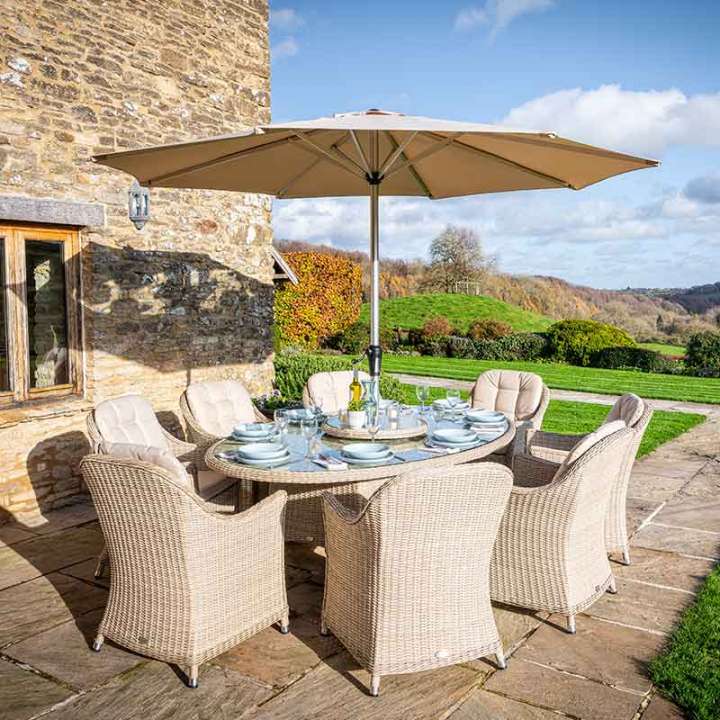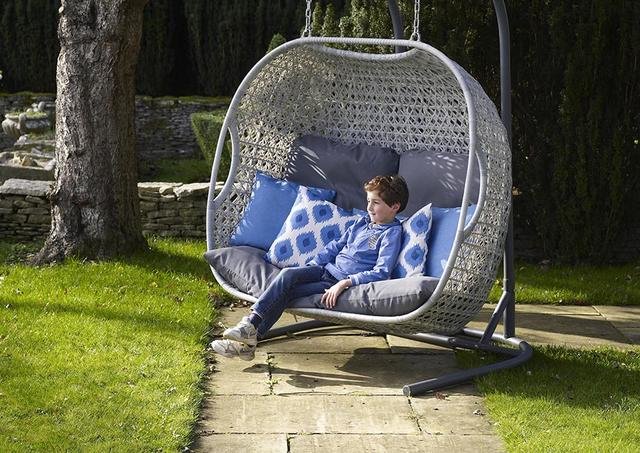 Portofino range
Like all of Bramblecrest's luxury garden furniture, the Portofino collection comes with a three-year Bramblecrest guarantee.  We love the style of Italian inspired Portofino range.  With wide, angular frames in a dark anthracite grey, it has a modern laid-back look.  The anthracite frames are paired with an all-season synthetic rattan in an unusual wide weave.  The all-season rattan comes in a light mushroom colour way that contrasts beautifully with the dark frames.
The Portofino range are supplied with Bramblecrest's season-proof cushions in a soft cobble colour.  They have a soft-touch feel but are incredibly hard wearing and low maintenance.  All Bramblecrest's season-proof cushions are lined with a waterproof liner to restrict water ingress.  Nevertheless, we do recommend storing them in a dry, ventilated space when not in use.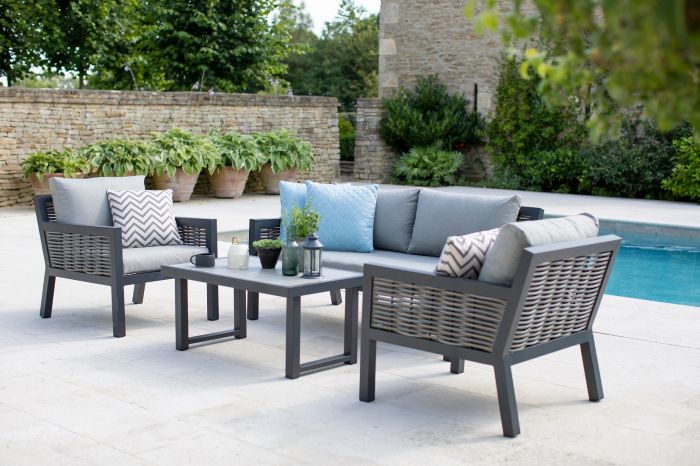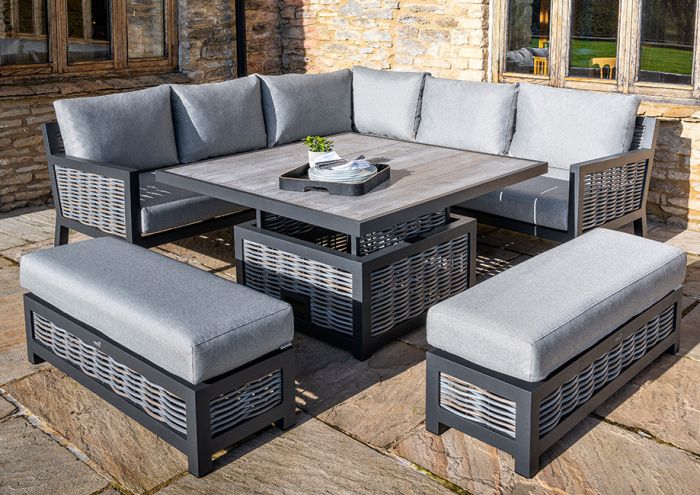 Palma range by Kettler
One of our most popular ranges, the Palma Collection is part of the modern Casual Dining concept. The outdoor wicker furniture gives you flexibility, going in both the garden and conservatory. Enjoy sofas for lounging and tables for dining on all on one set. Palma sets come in a choice of sizes.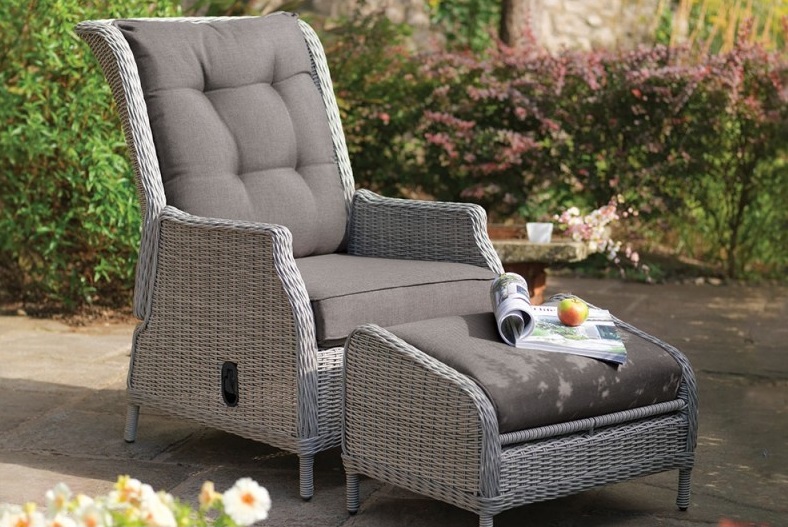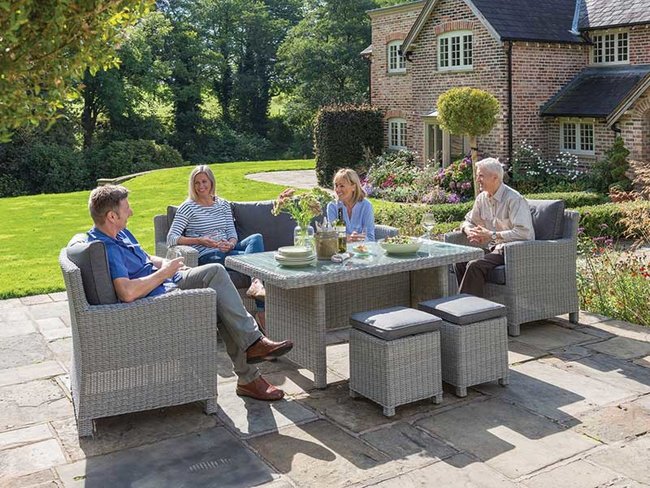 2. LIGHTING
Lighting is an important aspect in your garden, both aesthetically and practically. Lighting is not only beneficial for extending how long you can spend in your garden, but it also creates an ambience.
You don't need to have an expensive, elaborate lighting setup – a simple mobile, rechargeable lantern can do a good job like this one we stock from Kettler.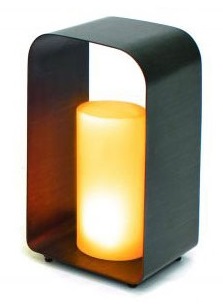 Alternatively, we'd also recommend a set of solar-powered outdoor string lights, which can be dotted around your garden and provide a gentle flow.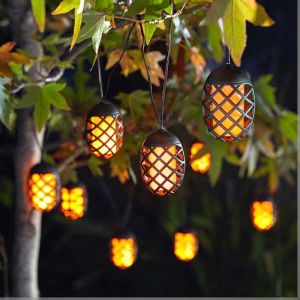 3. KEEPING WARM
You don't need us to tell you that it's unlikely temperatures will be scorching come 29th March, and so it's important to think about how you and your fellow guests will stay warm when the sun goes down. Extend your time in the garden with friends and family with one of these sources of heat.
One solution is to invest in a firepit table for the centre of your furniture set. We stock Kettler Palma firepit tables and Bramblecrest furniture sets with firepit tables included.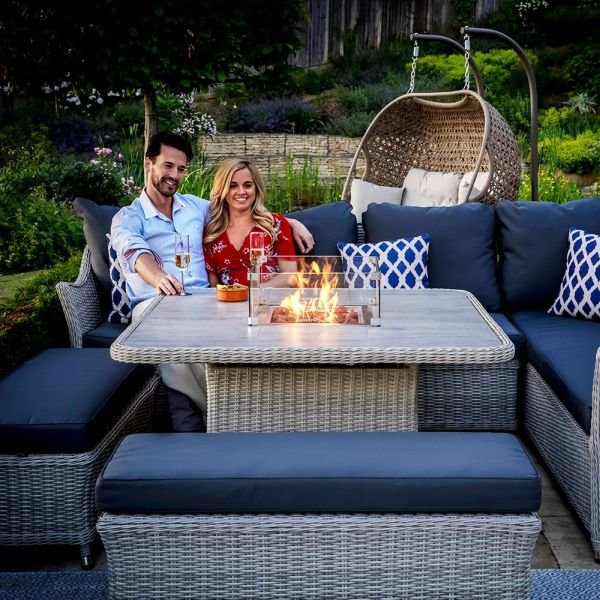 Another option is a heater like the Kettler Kalos range we stock which will instantly enhance the look of any patio, deck or balcony. The Kalos plush range have an all weather taupe coloured lamp shade which matches the Kettler range of wicker furniture. There are two options floor standing or table top heaters. You're sure to stay toasty with this nearby.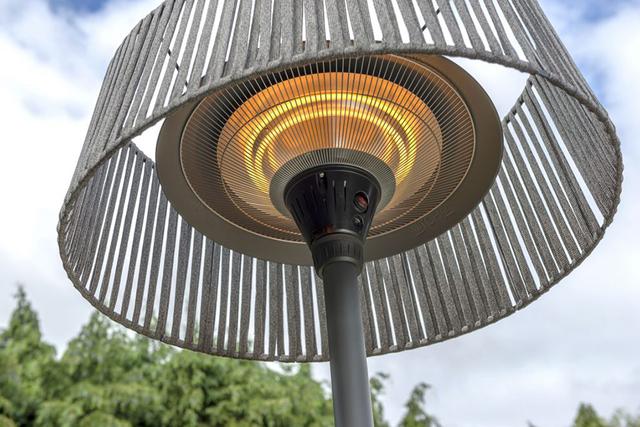 4. SENSE OF PRIVACY
Gardens are spaces where we can relax and unwind, so I think it is important to create a sense of privacy so that you and your visitors feel as comfortable as possible. If you have an exposed garden think about potentially using trellis, climbing plants, hedges or taller trees – all of these elements can help in order to create a sense of enclosure and sanctuary.
This Kensington Trellis Trough not only provides climbing support for your plants but once it's covered it'll make for an ideal privacy screen. Made from Scandinavian Redwood, it's perfect for gardens, patios and balconies alike.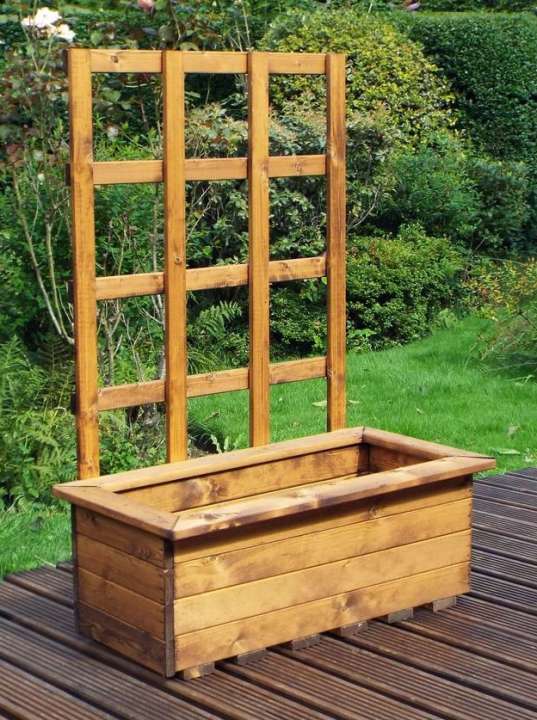 If you're looking for tall trees to transform your garden into a secluded sanctuary, bamboo is a fast-growing evergreen plant that is tall and full of green foliage all year round.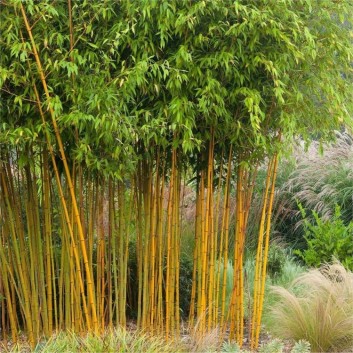 5. SHELTER
There's no denying that the British weather is unpredictable, so it's important to have an area which would allow you to be sheltered from the elements, be it sun or rain.
A parasol is perfect to offer shade and shelter from the rain. We stock a wide range of sizes for every budget; from centre post parasol, to side post parasols which you can adjust to any angle.
A striking sunshade to swoon over is our Chichester 3m x 3m Square Side Post Parasol boasts innovative tilting and rotating mechanisms using an easy-to-use crank handle. This is perfectly paired with our modular sofas.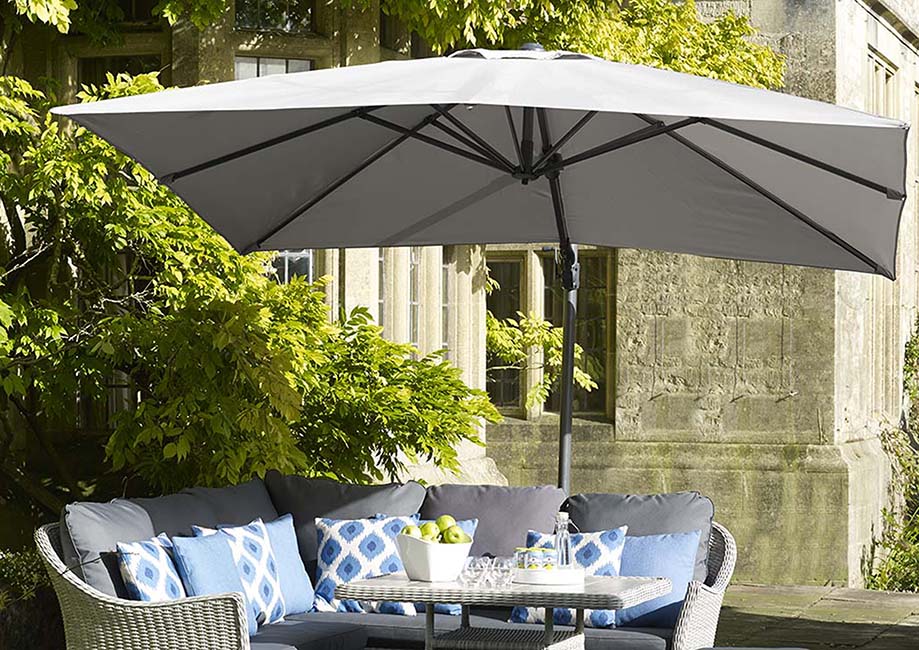 We also stock parasols with built-in lights and Bluetooth speakers to create the ultimate luxurious ambience.